Family Reunification success
In March, the Mobile Info Team continued its support for a great number of individuals. We were delighted to hear about the success of people who were finally able to reunite with family members in other European countries after having provided support and advice about the reunification process. For example, Karam* and his wife are now in Austria together with their fourteen-year-old child. They had been separated for more than two years. Also, Marwa* and her children were able to embrace their relatives in Germany again this month. Marwa was separated from her husband and child, who has Down syndrome, when escaping from Syria. The separation was really hard for all of them. We have been following the family reunification cases of Marwa and Karam very closely from the beginning, and are really happy that they are together with their family members again. We wish them all the best in their new home countries and that they can now finally start a new life together!
*names were changed to ensure privacy
Connecting refugees with the Goethe Institut for free German language classes
Learning the language is one of the most important issues for refugees after reaching their final destination. The Goethe Institut in Greece offers free German language classes for approved family reunification applicants. This should ensure a better start and smoother integration in Germany. To make sure that as many people as possible benefit from this opportunity, the Mobile Info Team reached out to its followers on Facebook, informing them about this great offer. The post was seen by more than 1,000 refugees and we were able to register a number of people for the course, so they can have a smoother transition to Germany. We are constantly on the lookout for opportunities such as this, and if they arise, we are able to convey details directly to refugees through our camp visits, and on a larger scale through our social media presence.
Providing very much needed information about how to get a travel document in Greece
"How do I get a travel document?" is currently one of the most urgent and commonly asked questions for a lot of recognized refugees in Greece. The travel document finally gives them the freedom to visit friends and family who have been scattered around the European continent, or to start searching for jobs in different countries - an important tool given the current economic climate in Greece and the scarcity of job opportunities at this time. The process to get a travel document is very long and complicated and there are a lot of rumours and unanswered questions surrounding the procedure. Thorough research has enabled the Mobile Info Team to compile information material on this topic in order to finally clarify a lot of questions and concerns. This material has so far been seen by approximately 5,000 people.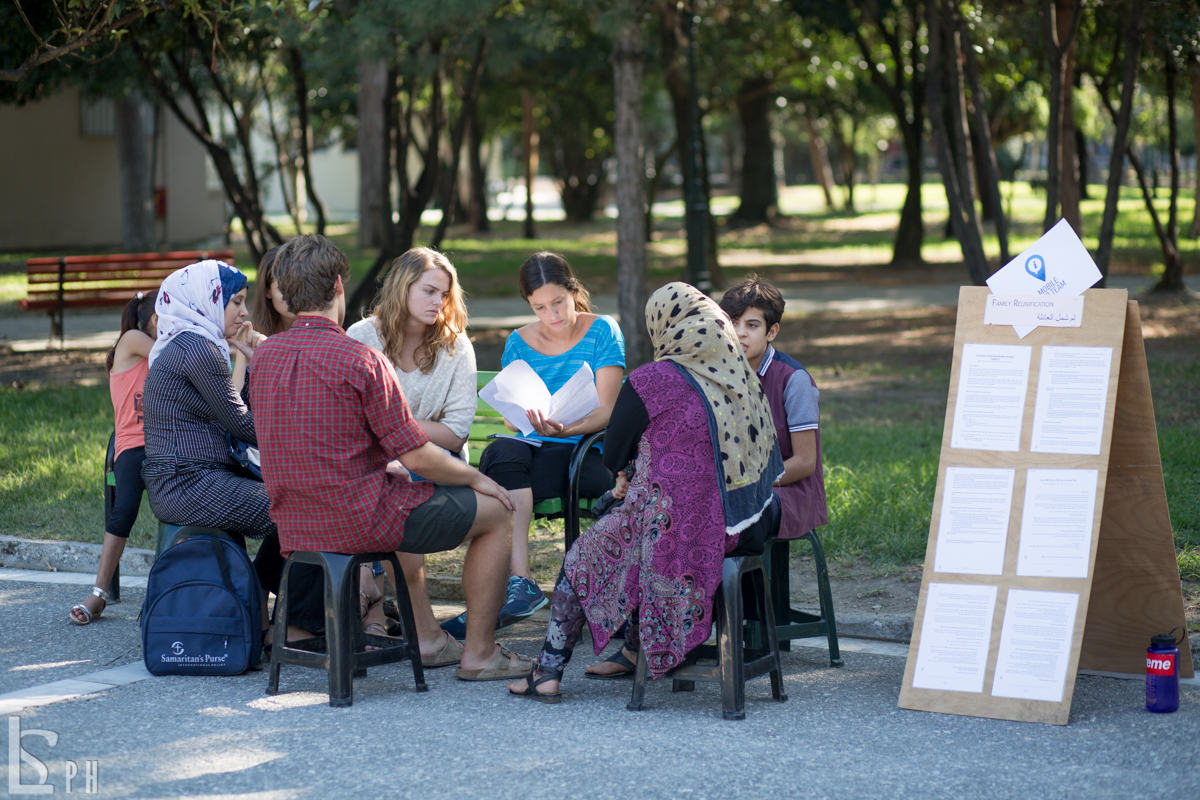 Info Sessions, phone and Facebook
And of course also in March the Mobile Info Team has continued to inform and assist refugees through our info sessions, via our phone hotline and also through Facebook. For example, on Facebook we've received and processed more then 300 requests and questions in March alone. Altogether, we've made 13 posts to inform asylum seekers and refugees about new developments for family reunification applicants, about how to get a travel documents or a Greek tax number, which is essential for processes such as renting an apartment or getting a work permit. On average, every post is seen by around 2,000 people.