Statements from Inhabitants of the "Abandoned Building"
"I went to the government but they said they don't have the money to support me"
Mukhtar* from Afghanistan
Mukhtar carries all the belongings he has left in a small plastic bag. He was an artist back in Afghanistan. He was kidnapped by the Taliban for three months after he sketched a picture of Jesus.
"I've spent 45 nights in this building. Some days ago, I found the clothes I am now wearing in the garbage bin. Nobody helped me so far. The Taliban broke my leg. I went to the Greek government but they said they don't have the money to support me. It is a very dirty place here. If we want to shower or wash our clothes, we have to make an appointment with a social center for 7 or 10 days later. I have just a small sleeping bag and it is really hard to spend the night here."
"It doesn't have walls, no bathroom and no bed. It is not a good life here."
Gohar from Pakistan was fleeing from terrorism in his home country. He arrived to Greece two weeks ago and is staying since then in the abandoned building. Before we met him, he didn't receive any information about where and how to apply for asylum in Greece and what the meaning of documents he received from the Greek police was. He learned some English in Pakistan, so we could speak to him in English:
"Life is very difficult in this building. It doesn't have walls, no bathroom and no bed. It is not a good life here."
"I want to open a shop and pay taxes, but I can't because I have nothing"
Khalid left his life in Pakistan because he was persecuted as a Shia Muslim. He needs urgent surgery due to a bullet in his head and three more bullets in his upper body. Despite his serious medical issues, he has been living in the "abandoned building" for three months so far. He has presented his problem to countless organisations but he still has not received any substantial help.
"Nobody cares about me and nobody listens to me! I have pain, I sleep every day here on the ground, but where else should I go? I have nowhere to stay. People are smuggling outside of Greece, because they are fleeing conditions like this. Every day the police comes to control us. Sometimes they are taking our cardboards or blankets away. Then we have nothing to sleep on. 14 or 15 year old kids also sleep in this building. It is a very bad situation for them. They don't even have a phone to call their parents. Their parents are worried about them. I had a good life in Pakistan, but I had to flee because of the government and the Taliban. I want to open a shop here and pay taxes, but I can't because I have nothing. I have proof that I'm sick, but nobody is helping me!"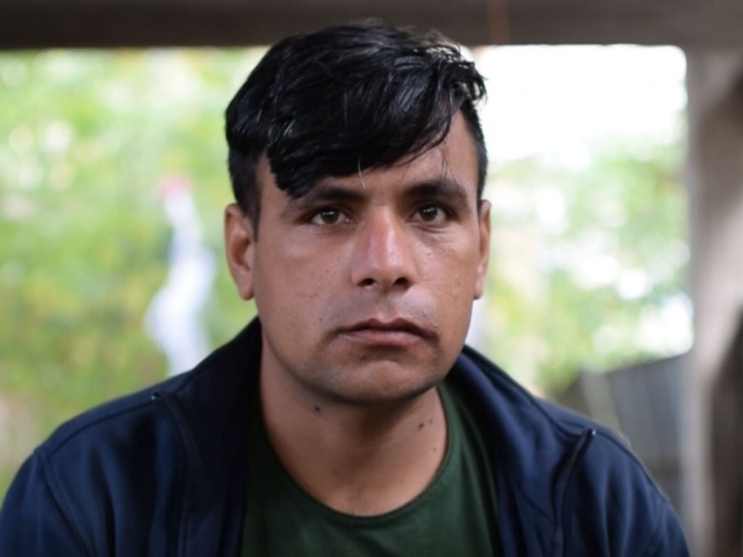 "For men it is really difficult here, but for families it is impossible"
Baddar from Afghanistan has already been living in the abandoned building for one month. He has visited many organisations to ask for a different place to stay but everyone has sent him away without helping.
"We have to sleep outside here. We have nothing. Sometimes minors or families also come here to sleep. Just like us, they have to sleep only on some cardboard on the ground. I have seen minors being turned away from camps, where they asked to be accommodated. Everybody in the building tries to help and we are sharing our blankets with children and families. For single men it is really difficult here, but for families it is impossible."
* all names have been changed to ensure privacy